Garage Door Repair Services
Back To Our Services
If you are thinking of fixing your garage door or installing a new part on your own or with the help of a regular handyman, think again. The truth is that garage doors and all the parts that comprise them are very complex systems and must be handled with the highest attention to detail.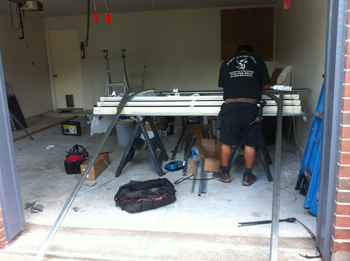 Choosing to DIY when it comes to such things can be unsuccessful and extremely dangerous as well. On the one hand, repairing or installing anything on your own (whether broken springs or a Liftmaster garage door opener) leads to improper installation and thus, to improper functioning as well. This lowers the life expectancy of your entire door's system and the quality of your investment as well.
On the other hand, definitely take into consideration the fact that Garage Door Installation can be very dangerous when functioning improperly. The last thing you want is having yourself or someone in your family hurt by a door that doesn't work the way it should be!
Affordable Services
Many people tend to believe that hiring a professional garage door repair or installation service is an expensive thing to do. However, this is not entirely true. Here at Garage Door Repair Beverly, we strive to provide the best services at the best prices. Our diligent contractors are trained to deal with a variety of tasks – from Genie garage door opener installation to garage door torsion springs replacement. They deal with everything and with the highest quality too.
The key to the success of our business lies in making sure valued customers are always 100% happy with rendered service – and any of the people who have chosen to work with us can confirm. We go above and beyond for you.
Give us a call today and learn more about our affordable services! Learn how our team of well-trained, experienced professionals helps your door.
Give us a call today and hire the very best professionals in the entire area!